How Pat Boone
Relates to the
Heresy of Decisional Regeneration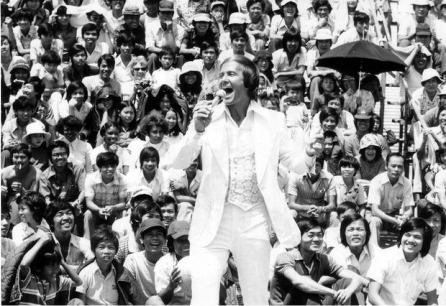 Pat Boone grew up in the Church of Christ. In the 1960s, Boone's marriage nearly came to an end because of his use of alcohol and his preference for attending parties. After having a charismatic encounter, his wife Shirley began to focus more on her religion and would eventually influence Pat and their daughters toward a similar religious focus. At this time, they attended the Inglewood Church of Christ in Inglewood, California.

In the early 1970s, the Boones hosted Bible studies for celebrities at their Beverly Hills home. The family then began attending The Church On The Way in Van Nuys, California — a Foursquare Gospel congregation led by pastor Jack Hayford.
The most common view of the Holy Spirit in the Restoration Churches started by Barton Stone and Alexander Campbell is the Verbal-Restrictive Theory.
After Boone and many others left Restoration Churches for Charismatic Churches, the Verbal-Transcendent Theory became more popular among some who remained in Restoration Churches. THE VERBAL-TRANSCENDENT THEORY OF THE HOLY SPIRIT WAS HELD BY VIRTUALLY ALL AMERICAN NEW LIGHT CALVINISTS IN THE FIRST AND SECOND GREAT AWAKENING - THAT WAS BEFORE SCOTTISH COMMON SENSE REALISM TAUGHT AT PRINCETON THEOLOGICAL SEMINARY GRADUALLY CHANGED EVANGELICAL THEOLOGY OVER TO THE VERBAL-AUGMENTATIVE THEORY .
IF IT WAS NOT FOR THIS CHANGE, THE BAIT AND SWITCH AND THE BIST SYSTEM WOULD NOT HAVE BEEN ACCEPTED IN THE INQUIRY ROOM AFTER THE CIVIL WAR, AND BILLY SUNDAY WOULD NEVER HAVE BEEN ABLE TO INTRODUCE DECISIONAL REGENERATION IN 1914. .