How Nouthetic Counseling
Relates to the
Heresy of Decisional Regeneration
Nouthetic counseling (Greek: noutheteo, to admonish) is a form of Evangelical Protestant pastoral counseling based solely upon the Bible and focused on Christ. It repudiates mainstream psychology and psychiatry as humanistic, radically secular and fundamentally opposed to Christianity.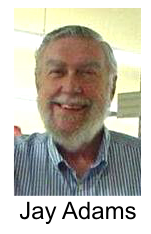 In the same way evangelicals "woke up" to the pernicious affects of evolution and formed young earth apologetic ministries, Jay Adams saw the pernicious affects of psychology and started a nouthetic apologetic ministry. A recent writer said, "Jay Adams brought a biblical revolution to Christian and pastoral counseling in the 1970s, challenging a field that was racing toward rancor, even dissolution by its fascination with all manner of anti-Christian psycho-babble".
Nouthetic counseling uses the Bible as God wrote it - as a definite, unchanging manual for human success, providing all the critical information necessary for living a holy, Christ-centered life. The Apostles used the Bible as the only source for RENEWING THE MIND.
"I beseech you therefore, brethren, by the mercies of God, that ye present your bodies a living sacrifice, holy, acceptable unto God, which is your reasonable service. And be not conformed to this world: but be ye transformed by the renewing of your mind, that ye may prove what is that good, and acceptable, and perfect, will of God" (Romans 12:1-2).
Unfortunately, most evangelical ministers continue to have faith in the Chimera of Psychology.