How "Religious Affections"
Relate to the
Heresy of Decisional Regeneration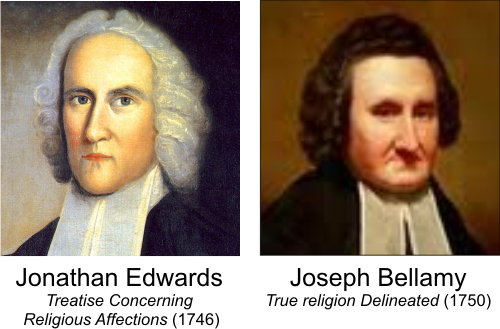 "There is no question … of greater importance to mankind … than this… what is the nature of true religion … and [what] are the distinguishing notes of that virtue and holiness?" Thus Jonathan Edwards started his Treatise Concerning Religious Affections.
In the First Great Awakening, "religious affections" were understood to be evidence of hopeful conversions. The word "hopeful" is an all-important caveat, as ministers never told hopeful converts that they were saved because of something they had done or experienced. It is important to not make a straw man argument against religious affections and throw the baby out with the bath water. Religious affections were to be expected if the Holy Spirit acts immediately on seekers according to the Verbal-Transcendent Theory, which was universally held by VIRTUALLY ALL AMERICAN NEW LIGHT CALVINISTS BEFORE 1768.

If a seeker experienced what they perceived to be "righteousness, peace and joy in the Holy Ghost", it was a hopeful sign of regeneration. Of course, those who then thought they could rest in their salvation and went no further with God soon proved that their conversion was counterfeit. BUT THAT DID NOT PROVE THAT ALL RELIGIOUS AFFECTIONS WERE COUNTERFEIT.
It is because of the rejection of the Verbal-Transcendent Theory by Scottish Common Sense Realism that religious affections were gradually abandoned as possible evidence of regeneration. Before 1813, most American New Light Calvinists believed the Verbal-Transcendent Theory as expressed by Jonathan Edwards, Jonathan Edwards Jr, Joseph Bellamy and to some extent, Samuel Hopkins. But starting in 1813, Princeton Theological Seminary started producing Presbyterian ministers with the Verbal-Augmentative Theory of Scottish Common Sense Realism. By the Civil war, American theology had evolved away from an irrational trust in religious affections as evidence of regeneration to an irrational trust in belief in Scripture as evidence of regeneration. This caused a shift from the BEST system over to the BIST system in the Inquiry Room by the end of the nineteenth century.
Many false converts thought they were saved because they had religious affections in the First and Second Great Awakenings, but almost every minister in those Awakenings cautioned seekers against false hope based on religious affections. In 1746, Jonathan Edwards wrote a book on the subject called Treatise Concerning Religious Affections. In 1750, Joseph Bellamy wrote another book on the subject called True Religion Delineated.
Bellamy and Edwards rejected religious affections as a definate indication of regeneration. Bellamy and Edwards always recommended self-examination of Biblical Evidence, including religious affections, over an extended period of time. Bellamy and Edwards did not argue against looking for religious affections, any more than he would have argued against looking for church attendence, reading the Bible and doing good works as possible evidence of regeneration. They kept religious affections in the same "hopeful" category as those other possible evidences of salvation, but never doubted their value.
Bellamy and Edwards would be shocked today that Evangelicals have replaced an irrational trust in religious affections with an irrational trust in bare faith in the Word of God as evidence of salvation. Please apply Bellamy's statement to millions of evangelicals today who think they are saved because they sincerly repeated a salvation prayer. Bellamy wrote:

"All their faith consists in believing that their sins are forgiven. And all the foundation which their faith is originally built upon, is an immediate revelation; the truth of which they dare not call in question, for fear of giving the lie to the Holy Spirit, from whom, they say, they know it came. But how could the Spirit of God reveal it to them, that Christ loved them, and that their sins were forgiven, and hereby lay the foundation for their first act of faith, when, before the first act of faith, they were actually under " condemnation, the wrath of God, and the curse of the law"? (John 3:18, 36. Gal. 3:10.) The thing revealed to them was not true; and therefore was not from God, but from the devil. Now, this false revelation laid the foundation for their faith, and their faith laid the foundation for their joy, and for all their religion. A spiritual sight and divine sense of the great truths presupposed and revealed in the gospel, is the foundation of the godly man's faith and holiness; but a particular thing, nowhere revealed in the Bible, is their foundation (THE REVELATION THAT THEIR SINS ARE FORGIVEN) yea, a falsehood that is directly contrary to what the Scriptures plainly teach".
Jonathan Edwards wrote on the subject of false confidence in relation to belief of scripture in his Treatise On ReligiousAffections.
PERSONS THAT THINK THEY HAVE HAD A PERSONAL REVELATION OF SCRIPTURE (EDWARDS CALLS IT "IMMEDIATE DECLARING") TO THEM THAT THEY ARE SAVED WITHOUT ANY OTHER EVIDENCE ARE DELUDED BY "FAITH IN THEIR FAITH"
"Some persons, under high affections, and a confident persuasion of their good estate, have that, which they very ignorantly call a seeing the truth of the word of God, and which is very far from it, after this manner; they have some text of scripture coming to their minds, in a sudden and extraordinary manner, immediately declaring to them (as they suppose) that their sins are forgiven or that God loves them, and will save them; and it may be have a chain of scriptures coming one after another, to the same purpose and they are convinced that it is truth, that is, they are confident that it is certainly so, that their sins are forgiven, and God does love them, etc.; they say they know it is so; and when the words of scripture are suggested to them, and as they suppose immediately spoken to them by God, in this meaning, they are ready to cry out, truth, truth! It is certainly so! The word of God is true! And this they call a seeing the truth of the word of God.
Whereas the Whole of their faith amounts to no more, than only a strong confidence of their own good estate, and so a confidence that those words are true, which they suppose tell them they are in a good estate: When indeed (as was shown before) there is no scripture which declares that any person is in a good estate directly, or any other way than by consequence. So that this, instead of being a real sight of the word of God, is a sight of nothing but a phantom, and is all over a delusion. Truly to see the truth of the word of God, is to see the truth of the gospel; which is the glorious doctrine the word of God contains, concerning God, and Jesus Christ, and the way of salvation by Him, and the world of glory that He is entered into, and purchased for all them who believe; and not a revelation that such and such particular persons are true Christians, and shall go to heaven. Therefore those affections which arise from no other persuasion of the truth of the word of God than this, arise from delusion, and not true conviction; and consequently are themselves delusive and vain.
But if the religious affections that persons have, do indeed arise from a strong persuasion of the truth of the Christian religion; their affections are not the better, unless their persuasion be a reasonable persuasion or conviction. By a reasonable conviction, I mean a conviction founded on real evidence, or upon that which is a good reason, or just ground of conviction".

For more on the subject of how modern Evangelicals are making the same mistake with Belief In Scrptures that previous Evangelicals made with Belief in Religious Affections, please read the Bait And Switch.
The folowing are excerpts form Joseph Bellamy's True Religion Delineated (1750):
Joseph Bellamy saw the confusion caused by religious affections first hand in 1740 at the height of the First Great Awakening. Imitators of George Whitefield were causing division between New and Old Light Calvinists by identifying religious affections with regeneration. Bellamy dealt with the error in this account.
"In the time of the "great awakening," two young ministers in Connecticut set out in company, to travel and preach to the people ; and their preaching, which was rousing and earnest, rather than instructive, was attended with much excitement. Coming to the neighborhood of Dr. Bellamy, he went to hear them preach. The people were much excited and alarmed, and the young men, greatly animated -with their success, soon pronounced a number of their hearers converted. The doctor saw how matters were going ; he saw the people were greatly moved ; but he perceived, also, that they did not know what reason they had for being moved, or why they thought themselves converted; and he proposed to preach to them himself. This he did, holding up to their view the character of God, the extent and spirituality of his law, and the nature of true submission in and through Christ, as the only Savior; and the result is said to have been, that almost all these new converts were led to see themselves unconverted before they left the place. They found that they were not prepared to love and submit to a holy God; that they had been relying on their own determinations, more than on Christ; and that they were still in the gall of bitterness and the bonds of iniquity. So great was the power of discriminating and faithful doctrinal preaching". 1
Bellamy would later write in his True Religion Delineated (1750) that the best evidence of regeneration is what second and third generation New Light Calvinists called "disinterested benevolence", in which the born again saint 1) SEES GOD GLORIOUSLY, 2) LOVES GOD SUPREMELY, 3) LIVES TO GOD ULTIMATELY, AND 4) DELIGHTS IN GOD SUPERLATIVELY. But the evangelical hypocrite goes through carnal experiences that he thinks are evidence of salvation. "The way for a man to know that he has grace, is not to judge himself by the degree and measure of his religious frames and affections, or the height of his attainments, but by the special nature of them; for as there is not any one grace but a hypocrite may have its counterfeit, so hypocrites may rise as high in their religion as any true believer does in his.
HERE ARE BELLAMY'S EXPERIENCIAL STAGES OF THE EVANGELICAL HYPOCRITE - A MORE SUCCINT SUMMATION OF JONATHAN EDWARDS' DESCRIPTION OF THE EVANGELICAL HYPOCRITE IN HIS BOOK RELIGIOUS AFFECTIONS:
From what has been said, we may easily see the falseness of the evangelical hypocrite's faith, who, although he makes a much greater show, and is more confident, yet has not a jot better foundation (THAN SINNERS THAT NEVER HAD ANY RELIGIOUS AFFECTIONS).
1) HE MAY EXPERIENCE LAW WORKS

He has been greatly awakened, perhaps, and terrified, and seemingly brought off from his own righteousness, and humbled, and then has received great light and comfort, and has had any an hour of joy and ravishment. For thus was the case:

2) HE MAY EXPERIENCE RELIGIOUS AFFECTIONS

In the depth of his darkness and sorrow, light shined all around him ; and, to his thinking, he saw heaven opened and the Lord sitting upon his throne, and Christ at his right hand, and heard those words, - Come, ye blessed of my Father, inherit the kingdom prepared for you from the foundation of the world. Be of good cheer; thy sins are forgiven. Fear not, little flock: it is your Father's good pleasure to give you the kingdom. O thou afflicted, tossed with tempests, and not comforted, behold, I will lay thy stones with fair colors,"

3) HE MAY EXPERIENCE REVELATIONS

Or, it may be, he saw Christ on the cross, with his blood running from his side, and hands, and feet: or, perhaps he saw a light in his chamber.

4) HE MAY EXPERIENCE A FEELING THAT A PARTICULAR SCRIPTURE APPLIES TO HIM
(this was to be the undoing of the New Light Calvinist Decision for Christ after the Civil War - see The Evangelical Bait and Switch)

It may be, he had one scripture, and, it may be, ten or twenty going, until he was as full as he could hold, and even ready to cry, -'Lord, stay thy hand.'' As to all these things, there is an endless variety; but, in the following particulars, there is a greater agreement. First. They have a discovery of Christ's love to them in particular; that he died for them in particular; that their sins are pardoned, etc. Second. The essence of their first act of faith consists in a firm persuasion that their sins are forgiven; that Christ died for them in particular, or the like.

EVERY ONE OF THESE EXPERIENCES CAN COME FROM A CARNAL HEART MOTIVATED BY SELF LOVE

All their after discoveries and after acts of faith are of the same nature with the first to the fourth. This faith, from a principle of self-love, naturally fills them full of joy, and love, and zeal, and lays the foundation of all their good frames, and of all then religion.

5) AFTER THEY HAVE RETURNED TO THEIR OLD CARNAL SELF, THEY THINK DOUBTING THEIR SALVATION WOULD BE THE GREAT SIN OF UNBELIEF
Doubting the goodness of their state, when they are dead and carnal, is, in their account, unbelief, and a great sin, and to be watched and prayed Against, as a thing of the most destructive tendency. Now, some, who have a few discoveries, do, in a few months, lose all their religion, and come to feel and live much like the rest of the world. Others hold out longer. Some, after they have lain dead one, two, three, five, or ten years, just as it happens, will have what they call a new discovery, and be as full as ever : while others continue in their irreligious courses. And here I may observe— That the greater discoveries, as they call them, they have, the more proud and conceited they are, and the more do they want to have all the town admire them. 2
The subtitle of True Religion Delineated, was "experimental religion, as distinguished from formality on the one hand, and enthusiasm in the other". As the title implies, Bellamy was correcting two types of false convert at the time of the First Great Awakening. He did not deal with the most common type of gospel hypocrite of today - the "bare faith" evangelical hypocrite. This was written in 1750, 15 years before Robert Sandeman introduced the "bare faith" heresy to the American colonies. The Campbellites were decades in the future. It would be 75 years before the bare faith hypocrites became common – when many Baptist churches and some Sandeman churches converted to Campbellism. Then, after the Civil War, some fourth generation New Light Calvinists and most fifth generation New Light Calvinists started to promote the bare faith approach inherent in the Belief In Scripture Test (BIST) in the Inquiry Room as evidence of saving faith with de facto regeneration.