How Edward Beecher
Relates to the
Heresy of Decisional Regeneration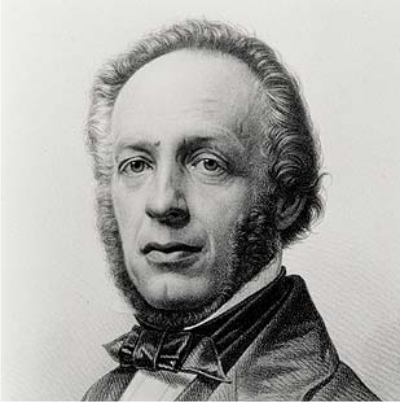 Lyman Beecher writes a letter to his 17 year old son Edward away at Yale college (Beecher's alma mater) June 22, 1820.
"William has been greatly afflicted by the death of his fellow-clerk, Andrew Burr, and is much awakened and alarmed concerning his own condition as a sinner. He wrote me a letter entreating me to pray for him. I exchanged with Mr. Elliott, and saw him. I believe the Holy Spirit is striving with him, and that he has some conviction of sin; but he fears, as I do, that it may pass off without a saving change, which may God avert by the merciful interposition of His saving grace. One child out of danger would give me joy to which I am yet a stranger, and relieve the sickness of heart occasioned by hope deferred.
"I hope your ambition as a scholar, or your love of study for its own sake, does not so engross your mind as to prevent the devout reading of the Scriptures, and daily supplication to God. Yours is the forming age. You, as respects both understanding and heart, are coming to a condition which is likely to be permanent; and, though more time and expense is bestowed to improve your understanding, it is not because the improvement of the heart is not, at the same time, infinitely the most important, but because, alas! We have no colleges to which we can send our children to be regenerated as we do to be instructed in science, and we can not with money purchase the Holy Ghost, as we can purchase intellectual improvement.
"I shall not cease to pray, my dear son, for your conversion, nor to deplore the mighty ruin which all your capacities and improvement will constitute in another world, should they continue under the dominion of a heart unsanctified and ireconciled to God. With all your gettings, get wisdom. So expects, and entreats, and prays your affectionate father. I think you have never spoken to me of your feelings on the subject of religion in any of your letters. I hope you do not feel reluctant to do it, that I may both know how to pray and counsel, and may also find excitement to pray for you."
Another letter from Lyman Beecher the same day.
"I hope that your health may be preserved, and your life, for usefulness in the Church of God. Most earnestly do I pray that I may never have the trial of weeping over you,
on a dying bed, without hope. What shall it profit you though you should gain all knowledge and lose your own soul? Awake, my dear son, to righteousness ! I must entreat
you no longer to presume on the continuance of a vapor to reject the mercy of the Gospel.
"It has seemed for a while here as if God was about to sweep us away with a stroke. Causes of alarm came clustering around me: Frederick hopeless ; Harriet violently seized; William more unwell; Charles stuck a pitchfork into his foot; the other children exposed to a terrible and contagious disorder; your eyes threatened; your mother feeble and greatly afflicted. My cup seemed to admit do more of feeling or of fear. But God has pitied and reprieved."
Another letter from Lyman Beecher to Edward August 25,1820.
" My dear Son,—Is not the present your time? I can not endure the thought that, amid such excitements to seriousness, you should continue unawakened and unconverted
to God. Should the revival prevail in college, your obligations to piety and the aggravations of unbelief will be greatly enhanced. To whom much is given, of the same much will be required. Surely knowledge can be no impediment to holiness—no hindrance to repentance and faith; and should you, with your intellect, religious education, and public advantages, continue in sin, it must be sin of crimson dye.
"If you ask why you continue stupid, I must reply because you willingly prefer other interests to the interests of your soul, and give your thoughts and affections so much to things of time that no place is found for God in your heart or thoughts.
"If you ask why God passes you by, and does not by His grace counteract your voluntary stupidity, I can not tell - oh, my son, I can not tell. But my heart is pained, is terrified at the thought that you should be left. Think not, Edward, that mind can be a substitute for moral excellence, for love to God, and faith in the Redeemer, or that learning and human estimation can balance one hour of that miserable eternity in which all is lost!
" My heart overflows with grief and fear, and my eyes with tears while I write to you. You must not continue stupid. Now pre-eminently is with you the accepted time
and the day of salvation. Trust not to my prayers; that would be to hinder their efficacy by making them the occasion of a deadly security. Let nothing interfere now with the care of your soul. Balance not between study and reputation and an interest in Christ.
"Study, if it is no impediment to seriousness, as usually it may not be; but if it is, give all up till you feel you are raised from the horrid pit, and your mouth is filled with a new song; and fail not to let me meet you and greet you as a child of the Redeemer when I come down.
" Quench not the Spirit; pray without ceasing; believe on the Lord Jesus Christ and thou shalt be saved!"
Lyman Beecher preaches at Yale and meets with Edward and writes his wife on September 2, 1820.
"The work is moving on, I think, pretty rapidly in the college, and with power and great glory in the city. But in all, it is a still small voice by which the kingdom of God comes without observation. Last evening I preached to a crowded assembly; to-day I am to examine and address those in college who have hope (inquiry Meeting), and this evening to attend a general meeting of the students, and preach or address them, I have not as yet been around in the private meetings, in which only the revival can be seen to the best effect and felt with the most power.
"Edward called upon me soon after I arrived, and I took him immediately aside to weep and pray over him. He told me that he had no feeling; but it was evident that he did feel much. His solicitude and distress are, I think, increasing. When I addressed the students yesterday he was present, and was among those who seemed to be the most overpowered. I have seldom seen more anguish of soul expressed in any countenance than appeared in his. His convictions, however, seem to be as yet a sense of his want of conformity to God's law, and selfishness, rather than any pungent sense of the evil of sin, attended by acute and agitating distress. I have some hopes that it is a work of the Spirit; but I rejoice with trembling.
"Let all our prayers lay him at the footstool, in which Esther will unite with us. He told me this morning that his feelings remained much as yesterday, and that he did not know what to do — that the subject occupied all his thoughts. I walked with him to Mr. Taylor's, and left him there for Mr. Taylor (Nathaniel Taylor) to converse with him.
"My brethren Goodrich and Taylor had often talked with him, and had been affectionately solicitous for him on his own and on my account. Oh, may the Lord make his way prosperous in his heart, that I may see at least one child out of danger and in the ark. For the children at home I am distressed. Oh, what knowledge and stupidity coexist in our family! Oh Lord, I have heard thy voice and am afraid. Oh Lord, revive thy work."
Another letter from Lyman Beecher to Edward April 7,1821.
"Your letter awakens great solicitude. It discloses the two prominent points in which conviction of sin consists —the consciousness of criminality and helplessness caused by sin, and at the same time, I fear, a kind of orthodox insensibility, which is a presage of evil in the work of the Spirit, as the loss of excitability in a sick patient is an omen of death.
"I trust by this time you know, what I have always known, that my prayers can not save you, having never reached to such fervent efficacy as led me to feel I could claim the promise; but have constrained me, when I have done all, to waive the claim of promise, and rely only on the sovereign mercy of God, and saying to Him that if He passes you by He will do you and me no injustice.
"But, while I say this, I feel how dreadful to my soul is the thought that you shall never serve God in the Gospel of his Son; and how still more dreadful that your powers should be forever perverted, and the perversion followed with suffering self-inflicted, and also divinely inflicted forever.
"Oh, my dear son, agonize to enter in. You must go to heaven; you must not go to hell! Do not, then, measure over the intervening ways between us and you laden with sins unrepented and unforgiven. Come to us when you return in the fullness of the Gospel. Oh come to help your father stir up the slumbering youth around him, and help him pray for other members of the family without hope. Come, begin to fulfill those hopes of your parents which awoke with your existence, and cheered us while we rocked your cradle and traveled together, our pilgrimage leading your thoughts and your feet in the right way.
"Catharine is in the same condition with yourself, except that she feels so strongly her inability that she can not feel her guilt; and I have had much and assiduous labor with her on that point, and hope she is quiet. Pier anxiety is great at times, and I fear she will follow your footsteps, and that you will both lay your bones at the very threshold of heaven. Mary is apparently careless and unawakened, as is George, excepting occasional tenderness of conscience when particularly addressed on the subject.
"William is gone on trial to live a month with Mr. W- ; a good place, but a particular, critical man.
Another letter from Lyman Beecher to Edward November 13,1821.
"My health mends slowly, but I am still under the rod of dyspepsia, and, with utmost care, can not escape much pain, and fear, and fog, and depression.
"I preached Sabbath evening an extempore sermon of half an hour at a moment's warning. Brother Nettleton failing from sore throat and hoarseness during the singing immediately preceding.
"It was about as good as I wished. The impression for the time never greater when I have spoken; no injury sustained. Monday attended inquiry meeting, and gave a short exhortation. Between fifty and sixty have hope; but few new cases, and but little done to extend the work. Brother Nettleton has relaxed all exertions as to visiting and efforts to push and extend the work except on the Sabbath and in lectures, and is becoming unwell, in part from loss of stimulus and inaction. He is gathering in the awakened and banding the converts, and seems indisposed to make any more work for himself. I am troubled, but can not say or do any thing.
"There is, however, a growing pressure of truth on the mind of the congregation, which, if attended to, might, and I hope will, break out in a new edition of the revival."
Another letter from Lyman Beecher to Edward march,1822.
"However unexpected and wonderful it may seem that a thing regarded so difficult as your conversion should at last become a reality, you are not the first who has felt so. It is also a feeling which no lapse of ages will obliterate from the heart. The reality of the fact will become unquestioned, but the wonder will increase forever.
"One of my parishioners at East Hampton, converted after having lived through three or four revivals to the age of fifty, and having given. up hope, used to exclaim for several weeks after his change, 'Is it I ! Am I the same man who used to think it so hard to be converted, and my case so hopeless? Is it I — is it I? Oh wonderful, wonderful!'
Another letter from Lyman Beecher to Edward march,1822.
"The revival has at no time been so promising since my return as now — eighty or ninety at the inquiry meeting last night. The children at home all stupid. I know not what to do.
"I hope, when you come home, you may be the occasion of good. As to your practical course, it is my advice and wish that you take your stand early at the post of duty, for no inconsiderable part of your evidence is to arise from action, or the effect of it.
"I would have you, as you are able, put your hand to the work; and I the more desire it, because it will prepare you to consummate one of my most delightful earthly anticipations, that of having you lead at times in the devotions of your father's family, and of aiding him in conference meeting and other ways, for which there will be ample opportunity if the work goes on according to promise."