How Catherine Beecher
Relates to the
Heresy of Decisional Regeneration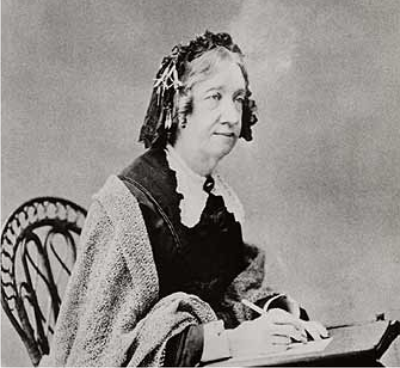 Lyman Beecher consoles his daughter Catherine Beecher in a letter May 30,1822 at the loss of her fiancé who died at sea, the subject of which inspired the characters in Harriet Beecher Stowe's romance novel, The Minister's Wooing. Catherine would never marry.
"My dear Child,— On entering the city last evening, the first intelligence I met filled my heart with pain. It is
all but certain that Professor Fisher is no more.
"Thus have perished our earthly hopes, plans, and prospects. Thus the hopes of Yale College, and of our country, and, I may say, of Europe, which had begun to know his promise, are dashed. The waves of the Atlantic, commissioned by Heaven, have buried them all.
"And now, my child, I must say that, though my heart in the beginning was set upon this connection, I have been kept from ever enjoying it by anticipation, even for an hour.
The suspense in which my life has been held, the threatening of your life, with the impression of uncertainty about all things earthly taught me by the lesson of the last six years, have kept my anticipations in check, and prepared me, with less surprise and severity of disappointment, to meet this new scene of sorrow.
"On that which will force itself on your pained heart with respect to the condition of his present existence in the eternal state, I can only say that many did and will indulge the hope that he was pious, though without such evidence as caused him to indulge hope.
| | |
| --- | --- |
| | Lyman Beecher is saying that Professor Fisher did not himself see evidence that God had turned him into a dog, but many had hopes, and will have hopes that he is in heaven despite the evidence. |
"This is not, in minds of his cast, an uncommon fact. Besides, during the war of elements, there was given a protracted period of warning, increasing in pressure and certainty of issue, which afforded space for submission, and powerful means to a mind already furnished with knowledge, and not unacquainted with the strivings of the Spirit.
| | |
| --- | --- |
| | Lyman Beecher is saying The Holy Spirit had educated professor Fisher with common grace to the need for repentance and submission ot God before the storm, and given him increased warnings of the urgency by the natural elements of the storm. |
"But on this subject we can not remove the veil which God allows to rest upon it, and have no absolute resting place but submission to his perfect administration.
"And now, my dear child, what will you do? Will you turn at length to God, and set your affections on things above, or cling to the shipwrecked hopes of earthly good? Will you send your thoughts to heaven and find peace, or to the cliffs, and winds, and waves of Ireland, to be afflicted, tossed with tempest, and not comforted?
"Till I come, farewell. May God preserve you, and give me the joy of beholding life spring up from death."
Catherine Beecher writes to Edward about the loss of her fiancés June 4, 1822. Some of her words would be used by Harriet Beecher Stowe in The Minister's Wooing.
"Your letter came at a time when no sympathy could soothe a grief 'that knows not consolation's name.' Yet it was not so much the ruined hopes of future life, it was dismay and apprehension for his immortal spirit. Oh, Edward,where is he now? Are the noble faculties of such a mind doomed to everlasting woe, or is he now with our dear mother in the mansions of the blessed?
"When I think of the scene of her death-bed there is a mournful pleasure. She died in peace, and the eyes that were closing on earth were to open in heaven. But when I think of the last sad moments of his short life—the horrors of darkness, the winds, the waves, and tempest, of his sufferings of mind when called to give up life and all its bright prospects, and be hurried alone, a disembodied spirit, into unknown, eternal scenes, oh, how dreadful, how agonizing!
"Could I but be assured that he was now forever safe, I would not repine. I ought not to repine now, for the Judge of the whole earth can not but do right.
"My dear brother, I am greatly afflicted. I know not where to look for comfort. The bright prospects that turned my thoughts away from heaven are all destroyed; and now that I have nowhere to go but to God, the heavens are closed against me, and my prayer is shut out.
"I feel that my affliction is what I justly deserve. Oh that God would take possession of the heart that He has made desolate, for this world can never comfort me. I feel to the very soul that it is He alone who hath wounded that can make whole.
"But I am discouraged, and at a loss what to do. I feel no realizing sense of my sinfulness, no love to the Redeemer, nothing but that I am unhappy and need religion; but where or how to find it I know not.
"I know you will pray for me, that you would comfort me if you knew how. But the help of man faileth. The dearest friends can only stand and look on; it is God alone that can help.
Catherine Beecher writes another letter to Edward July 1822.
"Now the judgments of God have brought me to a stand. I am called to look back upon past life, and consider what I have done. It is a painful and humiliating retrospection.
I see nothing but the most debasing selfishness and depravity in my heart, and this depravity equally displayed in all the actions of my past life.

"But, alas! this extenuating feeling blunts the force of conviction. I see that I am guilty, very guilty, but I can not feel, neither can I convince my understanding, that I am
totally and utterly without excuse. I see that I could have done otherwise, and that I had the most powerful motives that could be applied to induce me to do so, and I feel that I am guilty, but not guilty as if I had received a nature pure and uncontaminated. I can not feel this; I never shall by any mental exertion of my own; and if I ever do feel it, it will be by the interference of divine Omnipotence, and the work would seem to me miraculous.

"When I have confessed my sins to God, there has always been a lurking feeling, though I sometimes have not been aware of it, that, as God had formed me with this perverted inclination, he was, as a merciful being, obligated to grant some counteracting aid. Now I perceive how ruinous this feeling is, how contrary to the whole tenor of the Gospel. But is there not a real difficulty on the subject? Is there any satisfactory mode of explaining this doctrine, so that we can perceive its consistency while the heart is unrenewed?

" If all was consistent and right in the apprehension of my understanding, there would be no such temptation to skepticism as I feel growing within me. I feel all the time as if there was something wrong -something that is unreasonable. Sometimes I think the Bible is misunderstood, and that there must be promises of aid to the exertions of
the unrenewed. But then I find as great difficulties on that side. There have been moments when I have been so perplexed and darkened as to feel that no one could tell what
was truth from the Bible.

" But the prevailing feeling is that these things are so; that I have been instructed in the truth, and that, if I ever see the consistency and excellency of the truth, it will be
through the enlightening operation of the Holy Spirit.

"But I am most unhappy in the view which this doctrine presents of my own state and that of my fellow-creatures, except the few who are redeemed from the curse. When
I look at little Isabella (Isabella Beecher had just been born in 1822 to Lyman Beecher's second wife - she lived a long and productive life), it seems a pity that she ever was born, and that it would be a mercy if she was taken away. I feel as Job did, that I could curse the day in which I was born. I wonder that Christians who realize the worth of an immortal soul should be willing to give life to immortal minds, to be placed in such a dreadful world.

"I see that my feelings are at open war with the doctrines of grace.
| | |
| --- | --- |
| | The American New Light Calvinists Hopkins and Bellamy would say it is precisely your feelings that indicate your spiritual condition. Until the cat is supernaturally changed into a dog, the cat accepts intellectually the decrees of God, but feels uncomfortable with them. Once the cat becomes a dog, he feels comfortable with the decrees of God, even if he has mental reservations. |
I don't know that I ever felt enmity to God, or doubted of his justice and mercy, for I can more easily doubt the truth of these doctrines than the rectitude of God.
"I feel that my case is almost a desperate one, for the use of the means of grace have a directly contrary effect on my mind from others. The more I struggle, the less guilty
I feel; yet I dare not give them up.

"Thus my hours are passing away as the smoke, and my days as a tale that is told. I lie down in sorrow and awake in heaviness, and go mourning all the day long. There is
no help beneath the sun, and whether God will ever grant His aid He only knows."
Lyman Beecher writes to Catherine Beecher September 25, 1822. This may be the single best explanation of any American New Light Calvinist of why Samuel Hopkins insisted on an immediate decision for Christ, which was usually decribed as repentance and submission to God. Also, there is a dig at Scottish Common Sense Realism in his reference to the English fishing with a hook while the Americans fish with a net.
"Dear Catharine, — That your mind has found a kind of composure which prevents your repining at what is past, or wishing to change the present, and leaves alive only the desire to find happiness in God, though not religion, is a state of mind more propitious, I should hope, than that which has preceded it.

"The cessation of restless impatience, of that desperate importunity to be delivered soon, or to cast away the irksome thoughts of religion, is also a favorable change; for, though we may make haste to do our duty, we have no right to hasten God in his work of grace, or be impatient at his delay. The resignation of necessity or self-despair which you describe, so long as your interest and exertions arc not affected by it, is not an unfavorable state of mind ; and your hope that God will do something, if it do not prevent a sense of obligation to exercise right affections, and the attempt daily to give yourself away to him, is a correct state of feeling. Our expectation is from God only, when we have done all.

" The character of Christ by Newton (minister John Newton, author of Amazing Grace) as merciful, lovely, and compassionate, can not certainly exceed the scriptural representation or the reality; and I am glad that your vacant eye at last has fixed on these traits of his character, and your sad heart begins to feel that he does hear when you pray, and does pity. If he did not hear and pity, how could he be 'a merciful and faithful high-priest?" Read the second chapter to the Hebrews.

"You are only to remember that he hears what you say, and knows what you feel, and pities you as a lost sinner; and that, though the fact may encourage our supplication, we must not mistake the reaction of selfish gratitude for gracious affection.

" His entire character as holy, just, and good, as maintaining the honor and government of God, and saving from sin, is to be taken into view, and, on the ground of our necessity and his sufficiency, we are required with humble boldness to come to him.

"But if his purity and justice repel, the softer traits may come in to encourage our approach to Him who will in no wise cast out him that cometh.

"Oh that you would cast yourself affectionately into the hands of this good, merciful, pitiful Savior, who invites you, weary and heavy laden, to come to Him, and promises to your tempest-toss'd spirit rest…

"And yet I am startled at the tranquility produced by reading Newton, and the hope that God will, in his own good time, grant you comfort, even though it does not at
all abate your earnest seeking. Perhaps it is, as I have said, no greater encouragement than you may need, and the tranquillity may not be dangerous. I fear only because it
is precisely the effect always produced by such directions as Dr. Dwight (Timothy Dwight was Lyman Beecher's instructor at Yale - Dwight was a Bellamite, not a Hopkinsian, so he gave greater credence to using the Means of grace and Law Works as the way the Holy Spirit illuminated seekers to their desperate condition. Beecher and Nettleton disagreed with Dwight (and Bellamy) on this point, saying with Hopkins that seekers were apt to use the Law Works and Means Of Grace to put of immediate repentance and submission to God) used to give to awakened sinners, and as the English divines still give.

"Now who are right, the Old or New England divines? As to the proper directions to be given to awakened sinners generally, even you may be certain. When you consider the character of man as entirely depraved — when you consult your own cold, selfish heart, or read the requisitions of the law and the Gospel, and their exposition by the apostles— if God does not demand immediate spiritual obedience, he does not demand any thing. If he does, what are we that we should release sinners from the requirements of God?

"And as to using the means of grace, what are the means of grace but the requirements of God, with the motives by which they are enforced ? Releasing sinners from a sense of obligation to pray immediately and always, with affectionate reliance on Christ and penitence for sin, surely does not tend to make them pray in this manner of themselves, and surely it does not increase the probability that God will make them obedient.

"God's way to produce obedience in sinners is to require it, and make them feel their obligation to render it, until excuses and evasions are cut off, until every mouth is stopped; and then, when obligation presses hard, and distress at the violation of immediate duty rises high, when the sinner can not obey, and can not live disobedient under such a pressure of obligation and motive, then, when the means press with all their power on the conscience and heart, God makes them effectual.

"To give other directions than those of immediate spiritual obedience is to take away from the sinner, and out of the hands of the Spirit, the means of grace.

" If you reply that many have been saved under such preaching, I answer God is a sovereign, and saves by this same truth, in spite of much mingled with it that is calculated
to hinder. But if he required the exact and whole truth on this point, I verily believe that not a soul would have been saved in that way.

"Besides, instruction may be right in itself, and wrong as it is apprehended by the sinner, or wrong in itself, and yet truth as it is understood. For example, your orthodox education, true in itself, may, through the effect of a depraved heart, have produced erroneous impressions, to the cutting off too much the motives to attend to the means of grace; and in this state, that which in itself is not true, and would be pernicious to a mind less indoctrinated, may, as it hits your mind, be about the real truth, and be of use.

"Which mode of exhibition is, on the whole, most evangelical and most successful, is as manifest from facts as facts can make manifest. Look at the revivals which are filling our land with salvation ; they do not prevail in England. In this country they are confined almost exclusively to the New England manner of exhibiting the truth. Mr. Newton himself said, in a letter to a New England divine, ' I know not how it is, but we are obliged to be content with catching now and then a fish with a hook, while you in New England, like the Apostles of old, drag to shore your seines full.' (This was written in 1822 when Hopkinsian and Belamite New Light Calvinism had been prevalent in America for over 40 years, largely responsible for the Prebyterian Camp meeting approach in which ministers demanded immediate repentance and submission to God and saw DRAMATIC movements of the Holy Spirit (John Newton was commenting on evangelism before 1807, the year he died). Within 10 years of this letter, Scottish Common Sense Realism coming out of Princeton Theological Seminary would shift American New Light Calvinism to a less supernatural expectant, more gradual acceptance of Biblical truth approach with seekers.)

"This is the difference which God makes between telling sinners to pray and wait, and telling them, in God's name, to repent and believe.

"And now, dear child, if your composure should be the result of release from the pressure of obligation to do your duty immediately, and the restlessness consequent upon seeing that you do nothing, it is a fatal composure.

"If your comparative calm results from the hope that you shall be saved, while the importunity to obedience is relaxed, it is only the ease derived from a spirit of procrastination, and is fatal in its tendency.

"Finally, the extremes to be guarded against are
"1. A cold, sullen despondency, which prevents feeling and paralyzes effort. Nothing can be worse than this.
"2. Complacency in our own sensibilities and efforts, as good or acceptable to God ; or any such confidence in their effect to move Him as relieves the conscience and the heart from the full, painful pressure of obligation and depravity, and dependence on sovereign grace.
"3. If, in any view or on any ground, our sensibilities and exertions operate as a quieting substitute for spiritual obedience, their tendency is perverted, and their effect is pernicious. But the diligent use of means, from a sense of duty, with a deep interest in the subject, conscious of our constant deficiency and constant obligation to do better, with daily attempts to give the heart to God and to come to Christ, with many tears and supplications for aid, is as near the truth, in feeling and practice, as the sinner ever gets, till God in mercy bids him live.

" On the whole, I think I perceive evidence in your letter that God, by His providence and Spirit, has advanced His work in your mind. Oh that your next might inform me that you can pray to Jesus, not merely because he hears and pities, but also because he is altogether lovely."
| | |
| --- | --- |
| | Beecher is saying he believes the Holy Spirit has been moving on Catherine and he hopes that her next letter will reveal she not only prays because it is her duty and because she knows intellectually that Jesus hears her prayer, but because her heart has been supernaturally changed and she KNOWS Him as lovely. |
start page 491